(Opportunities provides links and information about venues seeking either crowdfunding, support in terms of service or even fiction – it's a chance for you to be involved)
Balticon 51
5-26 thru 5-29
The Renaissance Hotel, Baltimore Inner Harbor
Update—sadly, due to health conditions, Guest of Honor Eric Flint will not be able to attend the convention. The 1632 Mini-con will still proceed as planned. Eric will teleconference in for certain activities. BSFS was also able to convince author Stephen Brust to attend as a Special Guest. Brust is well known for his Draegara series. In further guest announcements, S.M. Stirling will also be attending as a Special Guest. Stirling is best known for his Nantucket and Emberverse series. There will be two book launches of note at the convention. eSpec books will be launching Man and Machine, If We Had Known and The Die is Cast. Fantastic Books and Fortress Publishing will be collaborating to launch The Biggest Bounty, Non-Parallel         Universes and TV Gods—Summer Programming.
COMPTON CROOK AWARD 2017
            The Baltimore Science Fiction Society recently announced the winner for the 2017 Compton Crook Award: Too Like Lightning—Ada Palmer. She will receive her award during the opening ceremonies for Balticon 51 on 5-26-17.
MARCH EVENTS
LOCAL AUTHORS TELL US ABOUT THE
WORLD AFTER THE WORST OF TIMES
MARCH 18TH, 1-3:00PM
YOUR LOCAL DOCTOR WHO CONVENTION FULL OF
BIG NAME GUESTS, PANELS, DEALERS AND MORE
MARCH 24-26 AT THE RENAISSANCE
BALTIMORE HARBORPLACE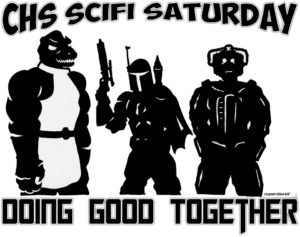 Watch the Skies will once again be participating in CHS SciFi Saturday on April 29th from 11AM—5PM. We are also collecting books to donate to young readers to encourage their interest in the genre. Book donations can be brought to Watch the Skies meetings or the event.
Let's give the future something to read!
Halloween Activities 2016
Ghosttour.com—offers a number of tours in the South Pennsylvania area : Lancaster, Strasburg, Gettysburg and Philadelphia
Harrisburghauntedhouses.com offers tours in the 'burg
Dauphincountyhistory.org can hook you up with tours of the Harris-Cameron Mansion by candlelight
Bubesbrewery.com will let you mix libation and tour
Www.yorkcountyparks.org will help you set up a tour of Raab park to look for spirits at the York Iron Company Mine
Afterdarkinvestigations.com has several different tours in and around the Gettysburg area and there are lots of other tours in and around town as well including wwwghostlyimages.net will take you inside the Jenny Wade house and www.ghostsofgettysburg.com offers tours based on the books of local author Mark Nesbitt
If you are fascinated with Ghostbusters try :
The Radio Free Gozaria Project, which is producing audio content examining all of the Ghostbuster movies as well as the cultural phenomenon they've created—radiofreegozeria.wordpress.com
Also there are the Harrisburg Ghostbusters, whom you can find on facebook and follow on twitter at @harrisburgghostbuster.
The Central PA Ghostbusters are another group who do charity work and various appearances—www.centralpaghostbusters.com
Finally, Dan Akroyd will be doing a bottle signing of Crystal Head Vodka at 4:00PM on Friday October 21st, at the Fine Wine and Spirits store at the Hershey Square Shopping Center, Hummelstown, PA.
For Fall fun, Stefanie Hackenberg recommends Lawyer's Farm as—THE BEST FARM FOR AUTUMN ACTIVITIES EVAR. Located in Thurmont, MD, Lawyer's Farm has 5 Corn Mazes (the aerial view of their main one is insane), 2 Pumpkin Cannons that you use to shoot baby pumpkins at — no joke — 50 foot Tranformers robots made from vehicles and farm equipment, a Barrel Train Ride, Hay Maze, Mini Ziplines, a Hay Fort, Playground, Bouncy Ball Racing , U-Pick Pumpkin Patch, Pedal Cart Track, Bunny Farm, Corn Box, Rubber Duck Races, and a bonfire in a teepee for adults to gather for cider and BBQ. There's a great video at the top of their website about the farm: http://www.winterbrookfarmsmd.com/
Dear Crabby recommends :
Terror Behind The Walls  A massive haunted house in Eastern State Penitentiary.
Terror In The Park  10/31/16 Only Abandoned Williams Grove Amusement Park open for haunting.
Family Fun For Halloween  Knoeble's Amusement Park does a lovely Halloween presentation that has a little bit of something for everyone and it's affordable
Ready for something magical? You can help bring two novels to life.
In Jack Campbell's The Sister Paradox 16-year-old Liam is an only child who suddenly finds himself with a sword wielding sister from an alternate dimension. And if that isn't strange enough, she's come to take him on an important quest … involving cursed keeps and dragons.
In Brenda Cooper's POST 16-year-old Sage has grown up almost exclusively within the confines of a botanical garden, a sage haven from the post-apocalyptic collapse of the outside world. Sage, however, is tired of the sheltered life and wants to discover the world rebuilding itself outside of the garden's walls. She learns hard lessons on the way back to civilization …
The books are already written and eSpec Books is crowdfunding the project on Kickstarter to pay the authors and artists for their work. There are plenty of awards for participating in the campaign as well.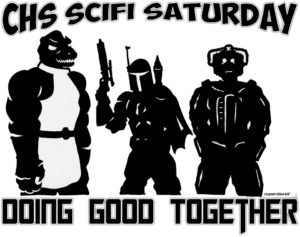 MAY 21st
11:00AM to 5:002PM
Carlisle High School
Entrance fee is two non-perishable food items
Because of this event, Watch the Skies is running:
THE SECOND ANNUAL BOOK DRIVE
We will once again be collecting books to give away and encourage reading Science Fiction and Fantasy at the Carlisle SciFi Saturday event May 21st. So look through your collections, boxes and closets and consider giving a young person the opportunity to experience the sense of wonder that SF&F can create. Please bring your donations to the WTS meetings and you are welcome to attend the SciFi Saturday and drop off books there as well. Thanks in advance for your support.
AUGUST 2015
Balticon 50 is going to be a big year and the Baltimore Science Fiction Society needs your help to make it the best con ever. The planning committee would like to invite back as many as possible of the Guests of Honor from the last 49 years. That's going to cost more than a little in terms of expenses for travel, housing and the like. This does however mean that #50 could be a rather massive gathering of literary star power. BSFS has already set the tone with their invited Guest of Honor, George R.R. Martin. They've also out done themselves by inviting John Picacio for the Artist Guest of Honor.
You can find the various ways to help make this a convention to remember here at the "Making-it-happen" page on the website .
BALTICON.ORG/WP50/MAKING-IT-HAPPEN/
(Donations will also be accepted with your registration
payments as well)
Farpoint Convention would like to offer its attendees more in terms of media guests. They've done a very good job in the past, but they'd like to improve so they are requesting your help to achieve their goals. If you were already planning on attending, a few extra bucks in donation could make this con a special event. You can find out more about donating here:
Zombies Need Brains Press isn't just after gray matter but rather some of its byproducts. After successfully funding their Alien Artifacts and Were anthologies in record time, ZNB is now open for submissions to both anthologies to fill the remaining slots. Alien Artifacts will include stories by anchor authors: Walter Hunt (hey, we know him!), C.S. Friedman, Gini Koch, Gail Z. Martin & Larry N. Martin, Sharon Lee & Steve Miller, Jacey Bedford, David Farland, Seanan McGuire and Juliet E. McKenna. The Were anthology will include stories by Danielle Ackley-McPhail, Patricia Bray, David B. Coe, Faith Hunter, Gini Koch, Seanan McGuire, Phyllis Ames and Jean Marie Ward. So ZNB has done a very nice job of gathering some well known authors to participate in their anthologies, but that's not all—your story could be in there right along side theirs. Short stories less than 7500 words are due to ZNB by Halloween for consideration for inclusion. Pay is $.06 word + plus royalties with a possible increase based on the success of the
kickstarter. Submissions should be emailed to :
joshua@zombiesneedbrains.com
For more info visit:
jpsorrow.livejournal.com/472423.html
Studio Cosplay – Having successfully run their kickstarter and
secured a location for their operations, Studio Cosplay is now entering the building phase. You can be a part of this exciting experience by volunteering your time. Visit the Studio Cosplay website or like them on Facebook to find out more about how you can help create a space where everyone can work to make something unique and special that makes you stand out from the crowd.
WWW.STUDIOCOSPLAY.ORG